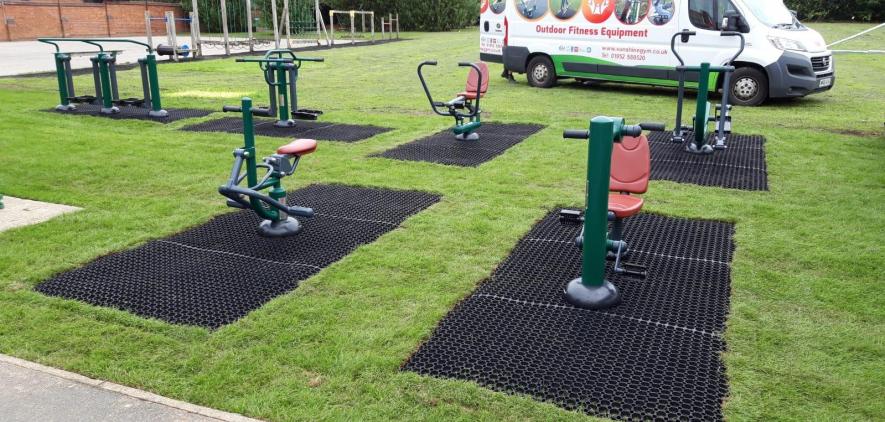 Newton Primary School Derbyshire
Sunshine Gym have provided a brand new outdoor gym at Newton Primary School in Derbyshire.
Newton Primary School decided upon the Primary School Outdoor Fitness Package which provided a pre-determined mixture of equipment specially selected by our experts to encourage fitness within primary schools. The equipment can be used by eight pupils simultaneously. Inclusive of both multi and single user equipment this package can be used as a gentle cardiovascular workout. It features two pieces of multi-user equipment, and these 'dual' units promote social interaction whilst still allowing the pupils to exercise at their own pace.
The equipment was installed on grass saver matting. This additional safety surface, over time, will encourage the grass to grow through and be mowed. Thus allowing it blend with the natural surroundings.
This specific outdoor fitness package is to be used by children under 140cm. This makes it perfect for the KS1 & KS2 pupils, and they can use it for small classes for PE pupils or even as an after school fitness initiative.
The multi-user equipment, situated at Newton includes:
In addition to these two pieces of outdoor gym equipment, Sunshine Gym also installed four single user units too.
With the children returning back to school after the summer break, we can't wait to see them having fun on their brand new outdoor gym equipment.
Mrs Hermansen, the School Business Officer said:
"We love it, it's amazing, the kids are going to be thrilled with it. It has exceeded all expectations and we are lucky to have such great equipment."
To find out more about each individual product and the benefits it can have for your pupils browse our full range of Outdoor Fitness Equipment for KS1 & KS2 online.
Alternatively you can speak to one of our specialist technical sales advisors by calling 01952 580520.