Design
At Sunshine Gym, our quality design process focuses on the intricate detailing of each individual product to ensure robust and durable equipment which stands the test of time.
Through the years we have added new product designs, as well as removed those deemed unsafe due to our high quality and safety standards. We believe that our designs, and hence design standards, are somewhat superior to that of our competitors and this is a direct result of our quality design process which is constantly being evaluated and amended to suit changing climates and adhering to new standards.
Further to the above our unique designs ensure that the equipment is low maintenance and vandal resistant. We have achieved this through a series of innovative design elements inclusive of, but not limited to:
Heavy duty steel and hot dip galvanised manufacturing process creates robust equipment.

Wax oil applied to all products meaning regular cleaning isn't required.

Smooth surfacing means small parts will not become trapped in any small openings.

Self-lubricated moving parts

All perishable elements can be easily replaced.

Tamper proof fixtures and fittings.

Enclosed safety limits.

A three point paint process which includes: Zinc Galvanising inside and out; Zinc Passive Dip Coating; High Quality Powder Coat Finish giving an effective corrosion protection cover.
---
At Sunshine Gym we strive to provide high quality outdoor gym equipment for everyone to use. That is why all of our Sunshine Gym outdoor gym equipment is manufactured under ISO9001 for Quality and Management Standards, together with ISO14001 Environmental Adherence.
Taking place under strict guidance and controls, Sunshine Gym's team of highly skilled workers use jigs and fixtures to ensure a constant adherence to quality standards.
Our quality manufacturing process sees us use 3mm steel wall section tubing as a starting point. This ensures that our equipment is one of the strongest on the market. Further to this all tubing is robot welded, again guaranteeing repeated strength and quality.
Our exceptional quality manufacturing process ensures that our equipment is robust, durable and promotes longevity. This has thus enabled us to provide the below market leading guarantees and warranties, find out more.
| | | |
| --- | --- | --- |
| | | |
Testing
Sunshine Gym are continually striving to improve our products and to this end ensure that current and new designs are fully tested under laboratory conditions.
Our equipment is subjected to testing procedures which will ensure robust, durable and long lasting equipment which will withstand heavy public use and the unpredictable British weather.
Sunshine Gym's routine tests include:
Testing to destruction on welding and moving parts.

Load testing.

All plastic and rubber parts have been tested to the highest standards and put through the most rigorous and gruelling examinations in a purpose built testing facility which exceeds that of normal operating limits.

Testing the effects of both excessive hot and cold weather conditions.

Testing the effects of UV exposure.

Paint is tested for corrosion in a salt spray cabinet for over 3000 hours.

Testing repetitive actions.

Hardness testing on metal parts.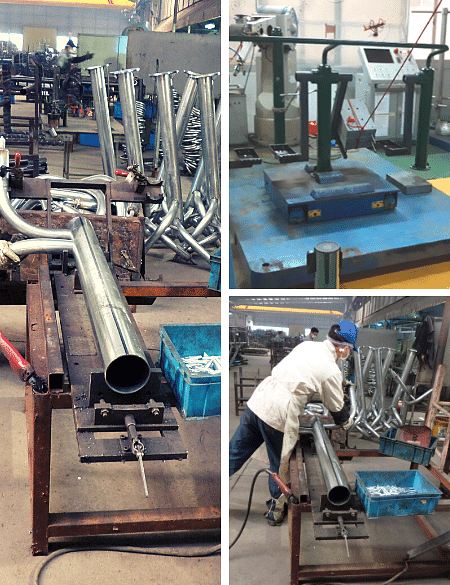 ---
Stainless Steel Labels
All labels are made from high quality stainless steel, this is done to ensure longevity helping to prevent corrosion and keep safety labels rust free. Correct labelling is an essential part of any outdoor gym equipment. Labels are there to give guidance to users for safe usage of the equipment, this is inclusive of but not limited to:
Clear and concise instructions together with a pictoral explanation of how to safely use the equipment.

Easily recognisable colour coded ability levels with recommended usage: Beginner, Intermediate & Advanced

Safety warnings and recommendations as well as suitable user heights and weight restrictions.
Stainless Steel Fixings & Caps
Similarly to the above, all fixtures and fittings are manufactured using a high quality stainless steel. This ensures that fixings remain rust free, and promotes both durability and longevity. In addition to this, the aesthetics given by the use of stainless steel help us to replicate the high quality manufacturing process in the overall appearance of the equipment.
We're always confident that every piece of equipment which leaves our factory is of the highest standard, this is due to the fact that before Sunshine Gym send out any of our outdoor gym equipment pieces, we carry out fully comprehensive pre-delivery inspections.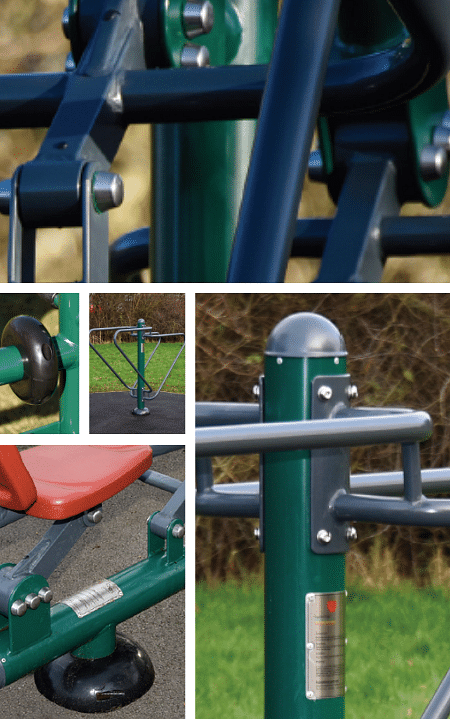 ---
Pre-delivery Inspection
We're always confident that every piece of equipment which leaves our factory is of the highest standard, this is due to the fact that before Sunshine Gym send out any of our outdoor gym equipment pieces, we carry out fully comprehensive pre-delivery inspections.
These inspections, headed by our Technical Manager Paul Childs, focus on the quality of our products, both visually as well as usability. Inspections are both thorough and entire, looking at each individual element, as well as the product as a whole.
Carried out by one of Sunshine Gym's trained experts, these inspections will look at the following:
Paintwork: All paintwork will be checked over to ensure that there are not scuffs or scratches, thus ensuring that when products leave our factory that there is no cosmetic damage.
Labelling: Labels are checked to ensure they represent the correct product, as well as ensure labels are flush to the product with no gaps.

Fixings: All parts of the equipment will be checked to ensure that parts are properly fixed in place. This includes elements such as hand grips and caps. Ensuring that all parts are fitted correctly helps us to ensure that customers do not receive equipment with loose parts.
Moving parts: Check all moving parts are fully operational, not stiff and produce one fluid movement.