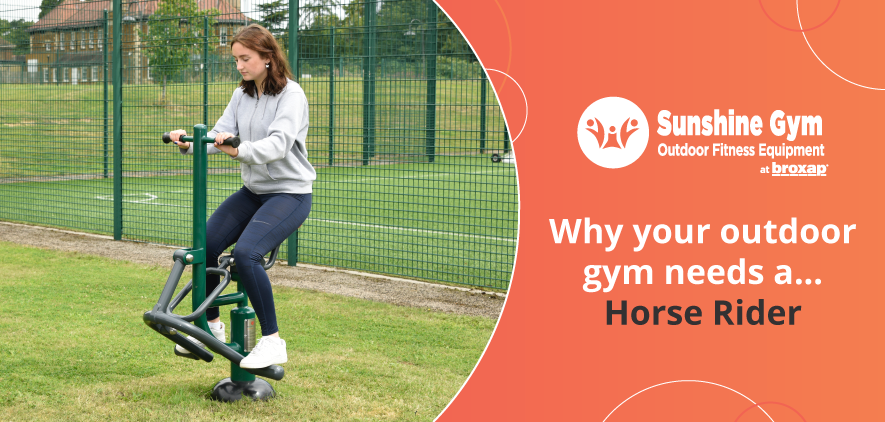 Why your outdoor gym needs a… Horse Rider
A unique piece of outdoor gym equipment, the Horse Rider brings an element of fun to any workout.
But it is not to be underestimated. Interaction with the Horse Rider can help to enhance overall fitness and technique by focusing on biomechanical principles.
It supports the way muscular systems function, just like when riding a horse, helping users to achieve their full potential.
Why choose a Horse Rider?
There are lots of reasons to include a horse rider in an outdoor gym.
It could be purely for the variety it adds to a workout, attracting users who are easily bored or distracted by traditional routines.
Adding a Horse Rider to an outside gym offers visitors the chance to exercise their whole body using just one station.
This can be incorporated as a confidence-building tool for beginners, or simply as a time-saver for those fitting a gym session in between work, school, and other commitments.
And for anyone looking to build strength and tone, the Horse Rider engages core muscles, as well as the upper and lower body, to improve stability.
Who can use a Horse Rider?
Like all Sunshine Gym equipment, the Horse Rider is relatively simple to use making it suitable for all.
We offer a children's version of the Horse Rider as well as an adult-sized one, built to appropriate height guidelines.
Pushing out with the lower legs, with the feet on the rest pegs, brings the seat up aligning the muscles which support the pelvis and spine for an effective and efficient workout.
It helps to keep posture tall and the back protected in a safe range of movement for a stronger core. This exercise fires up the glutes and hamstrings. The up movement matches the thrust of a horse, helping to build balance and control. The arms and shoulders are working too.
Where can a Horse Rider be installed?
A Horse Rider is perfect for school settings, particularly Key Stage 1 and Key Stage 2 environments.
Incorporating an element of imaginative play into physical exercise helps to encourage even the most reluctant student to get active during PE lessons. The repetitive motion of the Horse Rider makes for a great cardiovascular workout.
The fun factor also helps to beat workout boredom for an enjoyable way to exercise. Community settings are perfect for the Horse Rider because they attract users of all abilities and with a wide variety of aims.
Working the whole body means the Horse Rider fits in with almost all workout programmes.
What other benefits come with a Horse Rider?
Being outside and exercising helps to increase energy levels and release endorphins to improve mood and attitude.
As well as joint flexibility and strengthening heart and body circulation, exercising in an outdoor gym using a Horse Rider can support weight loss regimes. Controlling the movement on the Horse Rider, holding posture and increasing speed and sets all helps to burn body fat.
To find out more about how a Horse Rider can become an asset to your outdoor gym contact our team today.