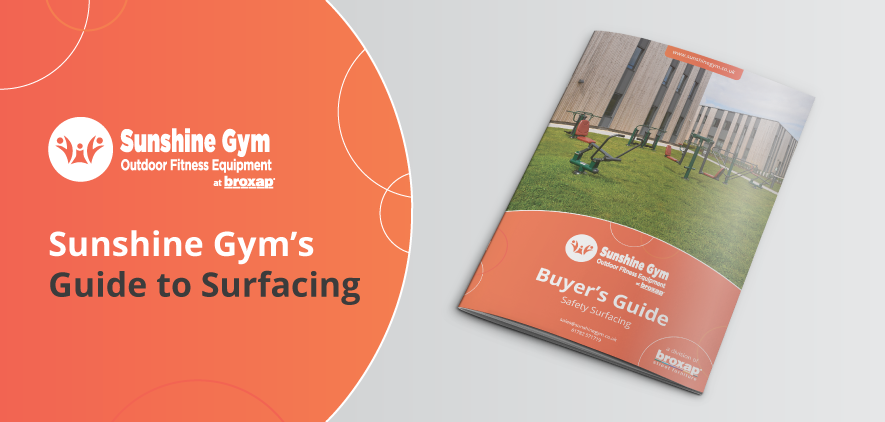 Sunshine Gym's Guide to Surfacing
Let's cut to the chase.
There's no need for a safety surface to be installed with a Sunshine Gym.
Our equipment all has a critical fall height below 0.6 metres.
According to British Standards EN 1177, all play equipment with a free fall height above 0.6m requires an impact absorbing surface.
The question buyers and owners of a Sunshine Gym need to be asking is, 'what is the best surface to install to maximise use of the equipment?'
Aesthetically, the right surface not only has the potential to attract more users, it has the potential to instil more confidence in users.
Today's choice of surfacing really does span every price bracket and creative vision.
From colourful, graphic-infused wetpour surfacing to natural grass, all offer different levels of protection, durability and accessibility as well as variation in cost.
At Sunshine Gym, our teams of installers are highly trained to ensure all surfacing is completed to a quality standard, with no presentation of hazards and with consideration given to laying conditions and maintenance.
They are experts in the installation of artificial grass; wetpour; rubber bound mulch; rubber grass mats as well as the patching or laying of tarmacadam and the reseeding of grassed areas.
We discuss with customers the comparisons and features to take into account to ensure every penny spent with us achieves value for you.
Our technical know-how goes beyond the installation and cost implications.
Working across the UK, our advisers have built up a wealth of experience to ensure we only offer surfacing products which fulfil the role they are intended for.
This means the correct grade of artificial grass, an accurate mix of components in rubber surfacing and the precise spread of grass mats to protect the ground in the right places.
Our recommendations and assessments are always backed up by facts as we work with our clients to create a fantastic experience for users of outdoor gyms, while remaining sensitive to available funding.
To help new and existing customers understand the effects and implications of investing in the right surface for their outdoor gym, we've produced an ebook guide.
This guide discusses in depth the different surfaces available, how they are made and laid and what the benefits are when balancing performance and cost.
As a leading UK designer, supplier and installer of outdoor gym equipment, we know our stuff.
And we want all of our clients to have a clear understanding of their obligations and options so they can achieve their aims within budget.
A Sunshine Gym brings with it multiple benefits – but only if children and adults are out there using it. And if that outdoor gym is sitting in a boggy field then not even the most enthusiastic fitness fanatic will want to access it.
We hope the guide proves a useful resource in planning your Sunshine Gym.
For further information or to discuss your requirements with one of our advisers, get in touch today.