Surfacing and Installations
When we design and install your Sunshine Gym equipment, we take pride in creating an entire experience.
We strive to not only create a complete outdoor fitness suite, but also a place where any user can go to enjoy exercising, and benefit from spending time outdoors amongst peers.
Our team of designers are passionate about fitness and exercise, and as a result will actively work with you to to ensure you get the most out of your Sunshine Gym experience. We will be on hand to help you select both the perfect location, and equipment so that your fitness area works for you!
Our universal socket system is set into reinforced concrete below ground level for secure and easy installation. This enables equipment to be interchangeable ensuring enjoyment for many years to come.
Whilst our equipment does not have a critical fall height, for aesthetic reasons many customers choose to upgrade to one of our surfacing options shown below. Changing your surfacing can make your area more appealing and inviting to potential users. So why not choose one of our surface options, or get creative by combining a mix of several to suit your individual needs.
Surfacing Guarantee
Any surfacing guarantees or warranties exclude issues with cut-backs, in fills and other repairs or 'patching up' to existing surfaces as well as issues relating to colour fastness.
When commissioned to lay surfacing, and the preparation for this has been undertaken by others, issues with undulation, settlement and other 'sink' issues are also excluded from any warranty, guarantee or other liability. Equally, we are unable to uphold any claim where the surfacing has been laid onto existing safety surfacing; slabs, flags, soil, grass or other hard or soft areas not approved by us. Sub-base inspections are based on integrity of surface at time of installation.
For installations into bark/loose fill, the ongoing maintenance and 'topping up' of the surface is the responsibility of others.
Surface Options
ARTIFICIAL GRASS
Artificial grass is one of our most popular surface options.
This surface option is both extremely low-maintenance, as well as suitable for all weather conditions, something which is very important for any outdoor gym. It comes in a range of different colour options so you can make your fitness area truly your own.
For more information on this surfacing option, contact one of our highly trained technical sales advisers by completing the contact form at the bottom of this page.
Low- maintenance
All-weather
Multiple colour/ design options
Inviting surface for users.
WET POUR
Wet Pour EPDM is a two layer porous impact absorbing in-situ rubber safety surface system often found in school playgrounds, local parks and other recreational areas.
It's continuous appearance, available in a range of colours, make it a popular surface as customers get creative incorporating designs, logos, patterns, shapes and even running tracks.
Wet Pour can be laid on a MOT sub base for stability, allowing it to be installed over varying mounded or ramped sub structures.
Wetpour surfacing quoted is supplied with a 5-year guarantee. Guarantee periods are against the faulty material only. This excludes perimeter edges, where new wetpour meets existing or an unsuitable edge detail (e.g. timber shuttering), overlays or any bond between existing surfaces and new surfaces due to movements that may occur.
Safety: Tested to BS EN1177
Low-maintenance
Durable: Tested to BS 7188 for Abrasive Wear
All-weather
Impact absorbing
Options of different colours with various design possibilities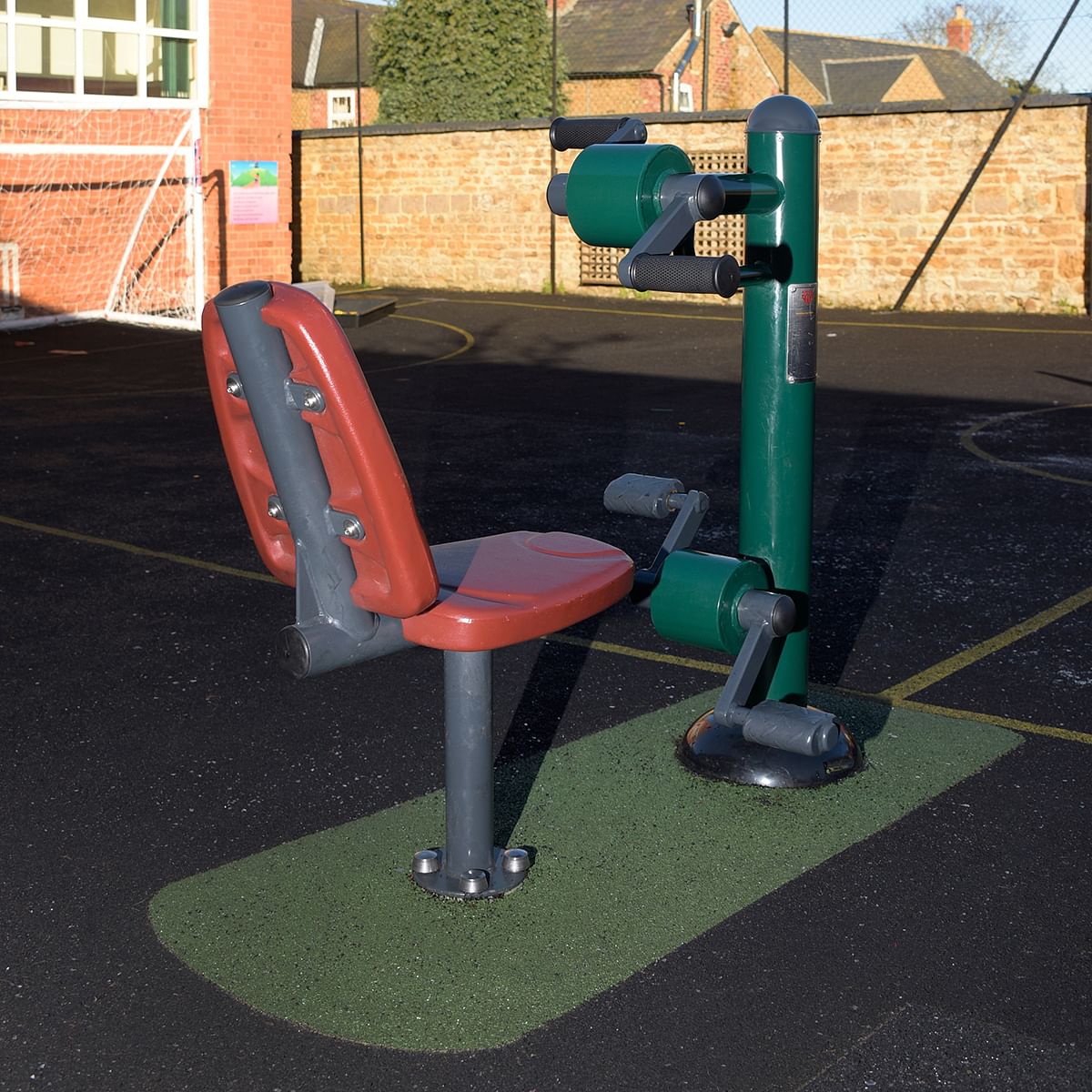 RUBBER MULCH
Rubber Mulch is another popular option which blends in with the natural environment. This cost-effective surface is easy to install and can be laid directly onto the natural surface.
The surface option provides a durable and impact absorbing surface, which comes in a multitude of different colours and design ideas, making it the perfect choice for any outdoor fitness area.
Mulch surfacing quoted is sold with a 5-year guarantee. Guarantee periods are against the faulty material only; the guarantee on rubber mulch is limited to re-establishing the integrity of the product only, we don't accept complaints based purely on aesthetics. The guarantee also excludes light shedding of the rubber shreds, surface growth and deliberate damage. The rubber mulch particles are coated with colour and manufacturers have varying coating thicknesses and processes. Due to which and varying uncontrollable factors, including but not limited to heavy usage and climate these could lead to variations in discolouration. With usage, the colour coating will wear and reveal the base black tyre material; N.B. this "black" may transfer on to users who come into general contact with it. A primer coating surface is available on request.
Specified & recommended thicknesses of Rubber Mulch surfaces cannot be guaranteed as consistent when installing onto uneven & soft sub-bases.
Durable
Made from 90% recycled rubber
Easy install
Cost-effective
Multiple colour options
ASPHALT (TARMACADAM)
Asphalt or Tarmacadam provides an extremely hard wearing surface which is suitable for heavy footfall areas. Additionally, due to the nature of the surfacing it provides a durable and zero maintenance surface for all equipment.
Sunshine Gym can install equipment onto a pre-existing area, or alternatively they can install a brand new pad.
Hard-wearing
Attractive appearance
Zero-maintenance
Free draining & quick drying
All-weather
Ideal for heavy footfall areas
GRASS MATTING
Grass matting can be great for both parks and open green spaces, providing a hard wearing surface which prevents soil erosion and muddy areas.
Once the grass has grown through, it can be mown over, thus keeping it consistent with the surrounding area and ensuring an aesthetically pleasing install. Just remember to change your setting on your lawnmower before you mow.
On top of this, Sunshine Gym always secure with more pegs than required to ensure the grass matting stays in place.
Hard wearing
All-weather
Slip and fall resistant: Tested to BS 7188.
Safe: Tested to BS EN 1177
Low Maintenance.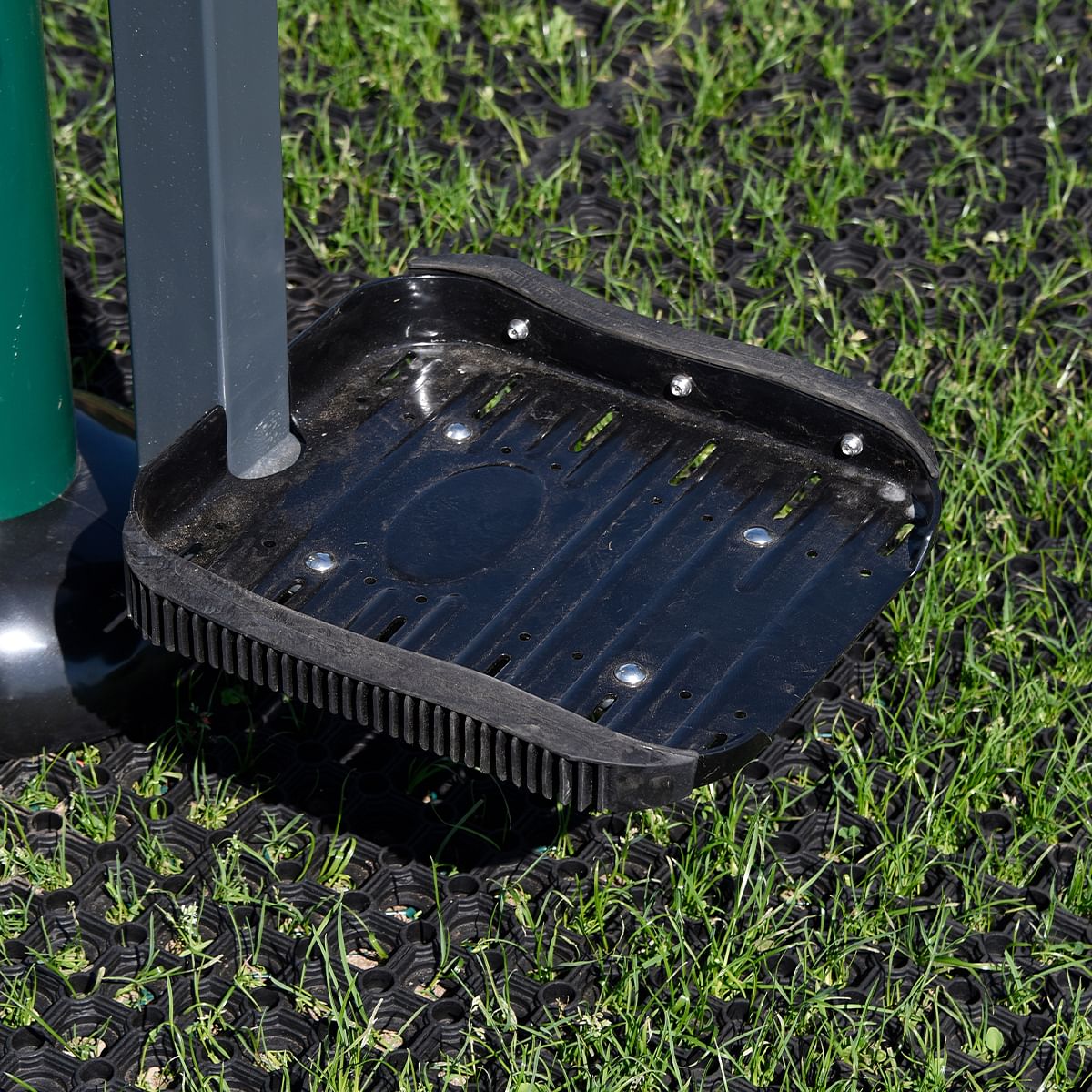 GRASS
Grass provides the simplest of installs. Equipment is erected on a pre-existing grass surface.
This naturally occurring surface is extremely aesthetically pleasing and is the perfect option for parks and green spaces with vast expanses of empty grass areas.
Due to the nature of this surface it is also low-maintenance, and suitable for all-weather conditions:
Suitable for lower footfall areas
All-weather
Low-maintenance
Before making your final decision consider the following:
Footfall
All-weather/drainage requirements
Durability
Maintenance
Colour
Design
Environmental impact
Natural or artificial preference
Budget
Ease of installation