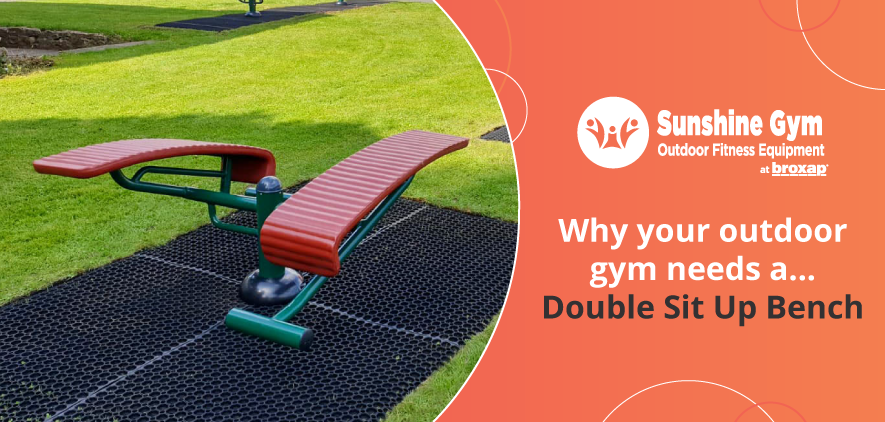 Why your outdoor gym needs a… Double Sit Up Bench
A strong core is vital for balance and stability as well as supporting your body to function properly.
How well your arms and legs move and perform all comes from the core – it's the body's entire support system.
So while the Double Sit Up Bench may seem easy to overlook when designing an outdoor gym, it is actually essential for those looking to incorporate core stabilising exercises into their workouts.
A Double Sit Up Bench is a classic piece of fitness equipment. It enables users to concentrate movements specifically on the abdominal area.
Sunshine Gym benches are ergonomically designed with a curve to prevent back pain and foot supports for safety and the double station enables two people to work out together at the same time.
The design aims to support form and function so users maintain posture while performing sit up exercises, reducing the risk of injury.
When using a Double Sit Up Bench, users can target their abs more effectively than working out on the floor.
Why choose a Double Sit Up Bench?
Compared to some other pieces of outdoor gym equipment from Sunshine Gym, the Double Sit Up Bench can seem less exciting.
But maintaining core strength goes hand-in-hand with cardio workouts, helping gym visitors to improve their performance and get results.
Providing a Double Sit Up Bench in an outdoor gym offers a greater variety and intensity of workout for users as sit ups are otherwise unfeasible in an outdoor environment.
Control is key to the sit up movement, as performing the exercise slowly will help gym users to ensure their muscles are working hard.
Who can use a Double Sit Up Bench?
At Sunshine Gym, the Double Sit Up Bench is available in both our children's range and our standard range for users over 4' 7" tall.
This is because NHS guidelines for children and young people state that those aged five to 18 should take part in a variety of types and intensities of physical activity.
Introducing variety into a workout helps to develop movement skills, muscles and bones.
As well as the abdominal area, sit ups work the obliques, hip flexors, back, chest and neck.
Getting the sit up right can actually take some time, ensuring the movement comes from the core and not from momentum.
Where can a Double Sit Up Bench be installed?
Schools, colleges and universities are great for outdoor gyms featuring the Double Sit Up Bench. The movement is generally taught from an early age and continuing to work on that core strength is vital for functional fitness.
Core muscle strengthening can contribute to improved performance in other athletic activities so Double Sit Up Benches at leisure sites, sports grounds and parks and recreation areas are a great idea.
As we use core muscles while performing daily tasks it could be argued that a Double Sit Up Bench should be installed in outdoor gyms in all settings for all round good health.
What other benefits come with a Double Sit Up Bench?
Sit ups are quite a versatile exercise – if hand weights are available these can be added into the movement.
Leg raises are a good way of targeting specific groups of core muscles, and press ups against a bench are also popular in outdoor workouts.
As it is a twin station, there is a great deal of exercise value to come from investment in a Double Sit Up Bench.
From the one installation, two people can benefit at the same time and as sit ups are an exercise which everyone can continue to do to get stronger, they increase everyone's overall fitness over time.
For advice on outdoor gym design and a free consultation for your planned project, contact our expert sales teams today.