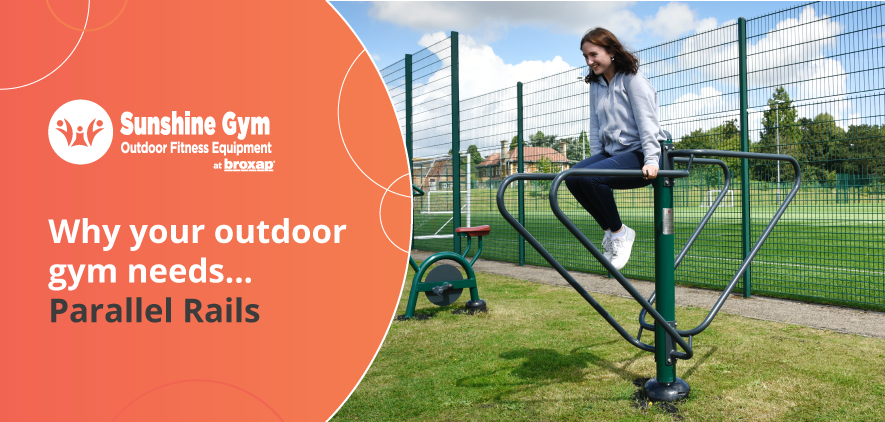 Why your outdoor gym needs… Parallel Rails
The Parallel Rails look deceptively simple and even maybe a little tame compared to some other pieces of outdoor gym equipment.
But anyone who has ever watched street workout and calisthenics teams in action will know that the parallel bars can support some majorly impressive moves.
Using only body weight and minimal equipment, this form of strength training incorporates many variations of movement to build muscle and stability.
Less is definitely more when it comes to the Parallel Rails.
Featuring two sets of parallel bars at different heights, users can carry out a wide variety of exercises that work multiple muscle groups at the same time.
Bodyweight exercises include tucks and dips, leg raises and incline push-ups.
But that's probably just the start.
Because the Parallel Rails support so many different upper body, leg and core movements, the equipment helps users to build whole-body strength.
The Parallel Rails are also fantastic for functional fitness, enabling the body to complete everyday tasks and movements smoothly and efficiently.
Why choose the Parallel Rails?
Any decision to include the Parallel Rails in an outdoor gym development must take into account the type of users visiting the gym and their aims.
Street workout and calisthenics moves can push the body to its limit with advanced exercises testing body control, balance, coordination and strength.
But beginners can start with some basic exercises to build their ability and practise good form.
The Parallel Rails are great for users who want to see progression and improvement in their strength as they are able to increase their reps and complete more challenging workouts.
This equipment is also ideal for outdoor gyms serving a wide user base such as in parks and recreation areas, offering an alternative to our cardiovascular equipment such as the Double Health Walker and Sky Stepper.
Its also great for locations which see repeat visits from users, such as prisons and secure units, as the practice of calisthenics can be performed three or four times a week, with time to rest the muscles between sessions.
Who can use the Parallel Rails?
Beginner, intermediate and advanced gym users can all take advantage of the Parallel Rails by simply adapting each move to the required level.
Through discipline and even a little experimentation, each user can transition through their training by following natural movement patterns using only bodyweight.
Calisthenics can also improve posture, burn calories and lower body fat so it's a really fantastic form of resistance training that doesn't involve weights.
The Parallel Rails are available from our standard range of adults' outdoor gym equipment, for users over 4' 7" in height.
Where can the Parallel Rails be installed?
We think the Parallel Rails are a brilliant addition to outdoor gyms in high schools, colleges and universities as it is an interesting and effective way for young people to challenge themselves as they grow older and stronger.
Community settings such as playing fields and park gyms are also ideal as including the Parallel Rails opens up an outdoor gym to more experienced users.
Outdoor gyms in these settings are also a great place for runners and walkers to stop off to stretch or mix-up their routine with a burst of strength training.
Urban outdoor gyms are perfect for the Parallel Rails as street workouts become more popular.
What other benefits come with the Parallel Rails?
The Parallel Rails provide space for two-users to work out together, bringing additional value to any investment in equipment.
The versatility offered by this piece also opens up a different workout to users every time, keeping the gym interesting and appealing to new and existing visitors.
The Parallel Rails takes up a small footprint so can benefit locations where space is at a premium.
For advice on which equipment will best serve your outdoor gym community, contact our experienced sales team.