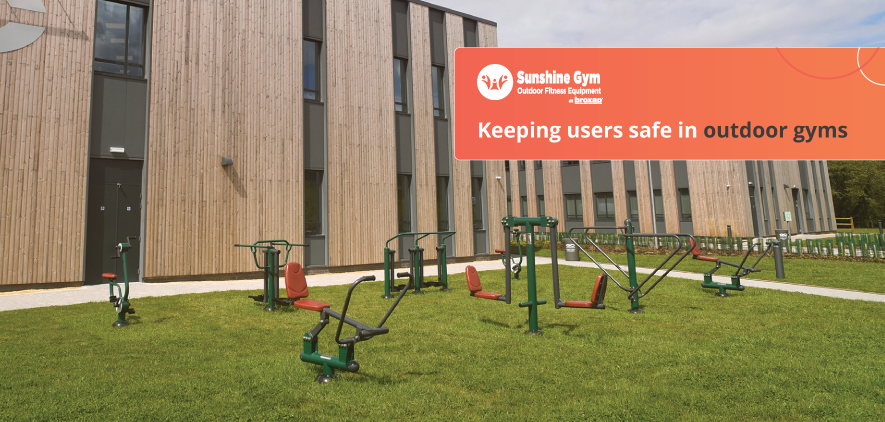 Keeping users safe in outdoor gyms
The freedom to enjoy an effective workout in the great outdoors – there's nothing better.
An outdoor gym from Sunshine Gym, once installed, opens up the possibility of unlimited free-to-access fitness sessions for communities.
The high quality, durable equipment we install is built to offer years of functionality as well as fun.
We care deeply about creating outdoor gyms for users of all ages, abilities and levels.
And because we believe so strongly in the power of outdoor gyms to energise and revitalise, we go above and beyond to ensure premium standards of safety for the ultimate user experience.
At Sunshine Gym, both our adult range and KS3 and KS4 range of outdoor fitness equipment meet the BS EN 16630 safety requirements for permanently installed outdoor fitness equipment.
Every item in every order is individually inspected and given a water-resistant coating before it is packed and delivered to site.
We take pride in our offering and give careful consideration not just to checking off a basic list, but to putting in place the right grade of finish to encourage regular use and maximise the value of outside gyms.
Rubber hand grips are soft and comfortable, our moulded seats bring stability and control surface water runoff, our foot pads and pedals ensure a secure grip.
The higher the usability level, the better return there will be on an outdoor gym investment.
Part of the beauty of outdoor gym equipment is its year-round availability, and with just these few thoughtful additions a Sunshine Gym is already prepared for seasonal changes in temperature.
This level of detailing is a constant feature in our equipment. Our safety stops don't rely on a metal-on-metal system to prevent easy wear. And we use stainless steel to help prevent rust.
Every item we supply is for independent operation only – meaning there are no moving parts on any piece of equipment that is not in use, and everyone works out to their own level and ability.
Our robust high standards also apply to the installation processes we use and the surfacing we install around the equipment.
Fitness equipment in the outdoors presents different assessment and management considerations than traditional indoor gyms.
Once installed, all outdoor fitness equipment should be subject to regular inspections and maintenance works by its owners.
General wear and tear from use, accidental or deliberate damage is almost inevitable.
Inspection and maintenance is the only way to preserve the continued, correct operation of the equipment and the safety of those using it. Detailed inspection and maintenance records should be kept. In the case of a warranty claim, or a personal injury claim by an end-user, these records will be required.
At Sunshine Gym we follow good practice in the design, supply and installation of our gyms. This is something that can be continued by owners through user supervision if applicable, as well as routine care and risk assessment. Gym users can also contribute by following the correct operational instructions and ensuring the swift reporting of issues.
Clearly visible stainless-steel labels are fitted to all our outdoor fitness equipment, giving clear concise instructions for use, together with a pictorial explanation.
The labels also feature colour coded ability levels, with recommended usage, and advice to help reduce the risk of injury during use.
At Sunshine Gym we have a team of Register of Play Inspectors International (rpii) qualified staff who can offer help and support to owners to maximise the life expectancy of their outdoor fitness equipment.
We provide log books to establish authenticity and provenance and check sheets to assist with record-keeping.
We recommend daily or weekly routine visual inspections to record any damage and keep the gym area free of hazards such as litter, debris and graffiti. A regular clean down of equipment using a soft sponge or cloth and mild detergent in warm water is also advocated.
Operational inspections, usually on a monthly basis, are an effective way of ensuring continuity of high standards, checking issues such as stability and lubrication.
Quarterly and annual inspections should also be carried out by an rpii annual inspector - a service which can be provided by Sunshine Gym. See our Operation & Maintenance Manual for more details.
Our advisers are happy to discuss any questions or concerns you may have about investing in an outdoor gym. We take the time to work together with clients to help encourage healthier lifestyles and improve wellbeing in our communities. Give us a call today.