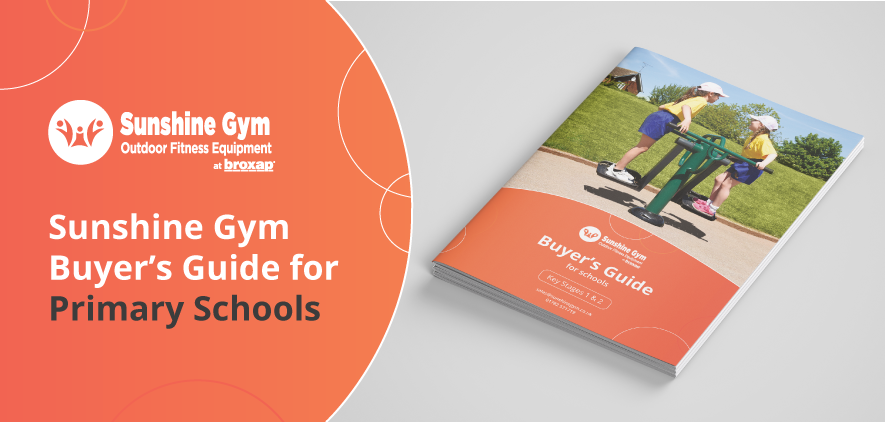 Sunshine Gym Buyer's Guide for Primary Schools
Investing in outdoor gym and fitness equipment for Key Stage 1 and Key Stage 2 pupils is a fantastic way to encourage children to get moving.
Our primary school customers have seen multiple benefits, ranging from increased take up of physical activity to enhanced social interaction across peer groups.
At Sunshine Gym we know how important it is for schools to achieve value from their improvements and to maximise the opportunities made available by funding such as the PE and sport premium.
So we've put together a free buyer's guide e-book to answer the practical questions relating to outside gym projects in primary school locations.
Sunshine Gym for primary schools
An outdoor gym is a fun way to exercise which is why our installations are so popular with children.
At Sunshine Gym we supply equipment specifically for pupils in the KS1 and KS2 age ranges, designed specially for users under 1.4m in height.
Every item is easy to use and built to the same quality standards as our adult and KS3 and KS4 collections.
Crucially, they are all operated independently which means the moving parts are only activated when a child is using the equipment, and only they have the power to increase or decrease the pace.
All of our outdoor gyms for primary schools are designed with safety and function in mind.
Our new buyer's guide discusses these design considerations in greater depth.
How does an outdoor gym improve physical education?
Schools are advised to use funding to make additional and sustainable improvements to the quality of PE, physical activity and sport they provide.
A Sunshine Gym develops the offering at primary schools, adding variety and engaging pupils in fitness in new ways.
Once installed, the gym equipment is free to use meaning schools can not only incorporate it into structured PE lessons, but can also make it available to children during lunch and break times.
After-school or extra-curricular gym sessions can also be developed.
The quality and durability of Sunshine Gym equipment means that it will be an asset to any school for many years.
And through our buyer's guide, we explore the best layout options and equipment choices which will ensure a school outdoor gym is well-used and offers opportunities to expand in the future.
Sunshine Gym believes an investment in outdoor gym equipment is an investment in a healthier future.
All of our equipment replicates traditional indoor gym facilities, inspiring life-long habits from a young age which benefit physical and mental wellbeing.
At Sunshine Gym we have more than 15 years of experience in designing, supplying and installing outdoor gyms and our school customers have seen positive effects in many areas of school life.
This includes the forming of friendships among children of all abilities on multi-user equipment, increased independence and communication skills and a performance boost in the classroom.
Download our e-book or take a look at the buyer's guide online here to help make an informed decision about your Sunshine Gym investment.
Our advisers are also available to talk through your plans – contact us today.