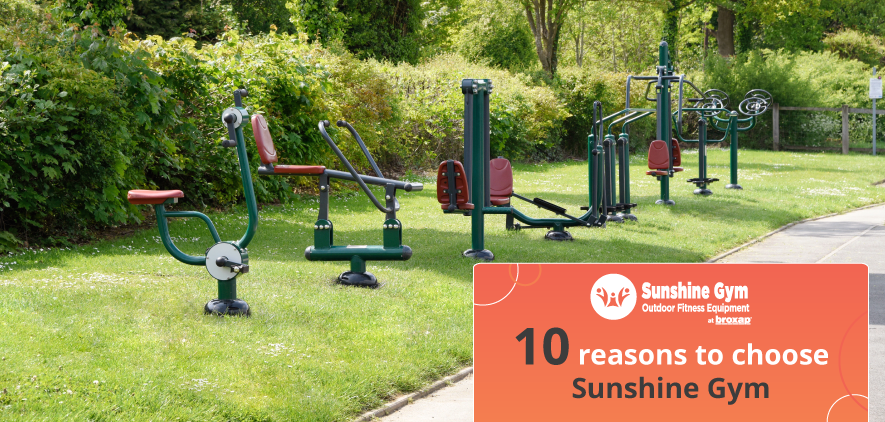 Ten reasons to choose Sunshine Gym
Taking on an outdoor gym project is exciting.
The development of external fitness equipment has come a long way and the options can seem endless.
Deciding on the best gym equipment and layout is crucial to accomplishing the project's objectives.
So to help clients in their research, we're setting out the top 10 reasons why we believe a Sunshine Gym is the right choice.
1. Quality outdoor gym equipment
Sunshine Gym is one of the UK's leading experts in outdoor fitness equipment.
Our products come with a 25-year structural guarantee and are pre-galvanised and powder-coated to further enhance longevity and durability.
We want our equipment to serve users for years to come so they can establish, achieve and reset fitness goals to accommodate the changing demands of their lives.
Getting it right from the start can make all the difference to ensuring you invest in a functional and popular outdoor gym.
Our team of trained technical sales advisers are available to share their knowledge right from the start of your project.
A free consultation is available to discuss your site requirements and guidance on the type of equipment best suited to your site and target users.
All relevant products are tested to the BS EN 16630 standard for permanently installed outdoor fitness equipment.
In addition, at Sunshine Gym we have designed and installed a unique safety stop system within our products to avoid dangerous crushing points. We go above and beyond the basic requirements to inspire confidence and protect the wellbeing of buyers and users.
We offer an expertly designed range of equipment for children and adults. The children's range is developed specifically for primary school pupils under 1.4 metres in height.
We believe that this is not just safer, it is essential for ensuring children enjoy their outdoor gym experience rather than become frustrated by difficult to reach and operate systems.
As well as a children's range, some of our outdoor gym equipment is designed for wheelchair access.
All of our equipment is operated by the individual user, so there is no pressure to keep up with others, and with independent control, there are no moving parts to navigate when getting on or off.
Each piece is fitted with an easy-to-read label explaining how to operate the gym equipment.
6. Accurate surfacing assessments
A Sunshine Gym has a critical fall height of less than 0.6 metres. While installing a safety surface is not needed, a suitable surface that will make the gym look inviting and establish its accessibility 365 days a year is something to consider.
Our team will always advise on how surfacing options suit the site in question and their effect on budget and experience in an honest and upfront way.
By choosing our installation service you can be certain your fitness area meets all the requirements for a safe and long-lasting outdoor gym.
Our professional teams visit sites across across the country and are experienced in working with our partners to ensure minimal disruption.
All of our crews are DBS checked and follow a code of conduct and time management arrangements when on site.
After placing an order with Sunshine Gym, we keep in touch with you at key points from delivery to installation.
Our after sales service includes free online training videos and we can provide an inspection check sheets and log books. Our own Register of Play Inspectors International (rpii) qualified staff offer help and support to owners to help maintain high standards.
9. Single source supplier
As part of the Broxap group of companies, we can assist our clients with a wide range of products to improve their outdoor sites. This includes seating, litter bins, fencing, outdoor shelters, cycle parking and signage.
Our sister companies also include Hand Made Places, for inclusive timber play equipment, and Stadia Sports, for a wide range of sports kit.
Crucially, we believe that offering an engaging workout that is fun and encourages social interaction is key to helping users maintain healthy habits. Our equipment has no in-built resistance so is perfect for beginners, while our multi gyms inspire different groups to motivate each other. We listen to your aims and discuss the way our equipment can help you meet them.
At Sunshine Gym, we believe in encouraging healthier communities and are committed to supporting all clients, in every setting. Get in touch today to discuss your outdoor gym plan.