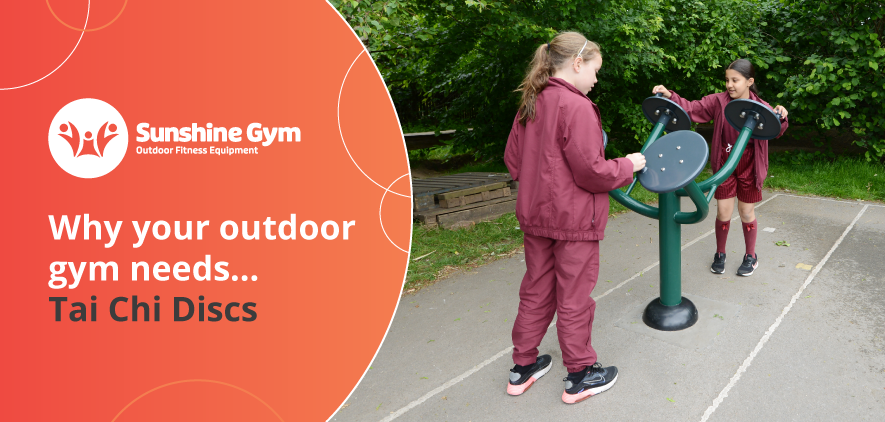 Why your outdoor gym needs… Tai Chi Discs
We believe an outdoor workout is a brilliant way to boost mental health as well as physical health.
And the slow, deliberate movements encouraged by Sunshine Gym's Tai Chi Discs help to maximise the wellbeing benefits of taking exercise in the open air.
As a multi user outdoor gym station, the Tai Chi Discs are made up of four rotating discs on a central column.
This allows two people to use the equipment at the same time, although they operate the discs at their own pace and rhythm.
The discs are positioned at different heights to intensify and change the range of movement for users.
Each disc has a handle for comfort and ease of use, while the effective but simple design minimises the equipment footprint.
Grasping the handles in both hands users rotate the discs to gently stretch and extend their arms, shoulders and back.
Why choose Tai Chi Discs?
Tai Chi Discs can be incorporated into workout routines, circuit training, warm ups and stretches.
Our equipment has been designed to encourage movements based on the same low-impact, slow-motion practice that Tai Chi is built upon.
The simple, soothing motions can be accompanied by breathing exercises and meditation as the muscles relax into the natural movements.
The Tai Chi Discs are easy to use, working the arms, shoulders, chest and back.
The movements can be smaller or larger, depending on which station the user is operating.
Who can use Tai Chi Discs?
Sunshine Gym designs outdoor gyms for everybody – and the Tai Chi Discs are a perfect example of how our equipment can benefit all users of all abilities and experience levels.
Just like the philosophy of Tai Chi, the equipment can be incorporated into workouts in different ways to achieve a variety of goals.
At Sunshine Gym, we have a range of equipment for children, designed for users under 4' 7" tall, and the Children's Tai Chi Discs are a good way to introduce youngsters to different movements.
The standard range version is ideal for older people, as maintaining flexibility and balance has been shown to improve quality of life and make it easier to recover from stumbles and falls.
Beginners or those returning to exercise after a long break will find the Tai Chi Discs a useful piece of equipment in getting the body mobilised and used to more strenuous movements.
When the Tai Chi Discs are included in an outdoor gym, workouts can be easily adapted for everyone.
Regular use can improve conditioning while the speed and size of movements can help to strengthen the upper body.
Our range of equipment includes wheelchair accessible Tai Chi Discs and the equipment can be useful to those following a rehabilitation programme after recovering from accident or injury.
Where can Tai Chi Discs be installed?
Primary schools delivering inclusive PE lessons find the Children's Tai Chi Discs are a good way to motivate less active pupils and introduce them to regular exercise. It brings them together with more able and confident students and helps to build stamina and interest in outdoor activity.
Healthcare settings are ideal for outdoor gyms featuring the Tai Chi Discs while the equipment can support mindfulness in sensory or therapy gardens.
In community settings, the Tai Chi Discs open up outdoor gyms to a wider range of people, rather than just those who are experienced in using the equipment.
What other benefits come with the Tai Chi Discs?
By combining the Tai Chi Discs with a range of other Sunshine Gym equipment, body and mind are given a real boost.
Pairing it with the Health Walker for example offers upper and lower body workouts that are gentle on the joints.
Meanwhile the Activ8 and Integr8 Multi Gyms feature the Tai Chi Discs in standard, children's or wheelchair accessible format, to bring everyone together for a positive outdoor gym experience.
As a standalone piece of equipment, the Tai Chi Discs take up minimal space for outdoor gym locations looking to maximise the number of stations in can accommodate.
And the type of mind-body exercise the Tai Chi Discs encourage can also help to reduce the symptoms of stress and anxiety as users benefit from the effect of meditative and calming movements.
If you're investing in an outdoor gym to support healing and inclusivity, contact our friendly sales teams to discuss how the Tai Chi Discs and other Sunshine Gym equipment can support your aims.