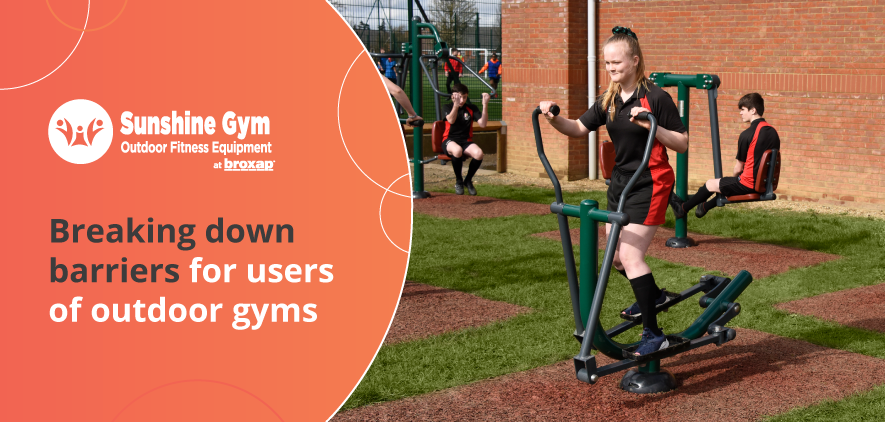 Breaking down barriers for users of outdoor gyms
One of the benefits we love best about a Sunshine Gym is the way an installation can bring people of all ability, skill and background together to enjoy each other's company while working out at their own pace.
But new research carried out by Sport England as part of its This Girl Can campaign shows men continue to be more active than women.
It has now issued practical guidance for leisure facilities to improve the experiences of women and girls based on the insights.
In partnership with This Girl Can, ukactive commissioned Savanta ComRes to conduct a survey of more than 1,000 women and girls. The results showed that 60 per cent of respondents visited a fitness or leisure centre at least once a month in the past three years, but that 50 per cent of women with experience of exercising in these settings in the past three years worry about being judged.
Of those with a fear of judgement, more were concerned about being judged by other women (27 per cent) than by men (22 per cent).
Furthermore 45 per cent said a member of staff demonstrating exercises/activities and how to use equipment would encourage their participation.
Nearly a third of women surveyed identified cost as a barrier to participation, with 32 per cent of those who've attended a fitness or leisure centre in the past three years saying it was too expensive.
Five steps to attract more women and girls
As well as a better understanding of the barriers to physical activity, This Girl Can and ukactive have used the research to produce practical guidance for leisure settings to implement.
Creating welcoming and attractive outdoor fitness facilities is something we pride ourselves on at Sunshine Gym.
So it is great to see many of the recommendations we make to our clients being backed up in the practical guide.
Our advisers have many years of experience in the outdoor gym sector, and understand not only pragmatic issues such as layout and budget but also how different demographics use and benefit from having access to the equipment.
1. Put inclusivity at the heart of your gym design
A Sunshine Gym opens up fitness opportunities for everybody.
That includes people of different body type, different age and different levels of experience.
An outdoor gym from Sunshine Gym demonstrates to users that the facility is inclusive of everyone and promoting a positive body image is something we feel strongly about.
We offer a mix of wheelchair accessible, children's and adults' equipment to accommodate all users.
This helps to achieve step one of the guidance: to ensure women and girls feel represented within the outdoor gym setting.
2. Offer practical advice
Offering as much information as possible about your outdoor gym facility is another way to ease the anxieties some women and girls may feel about accessing the site.
That's why all Sunshine Gym equipment is manufactured bearing a clear, easy-to-read stainless steel label which outlines how to operate the kit and other safety information.
We can also go further than that. As part of the Broxap Street Furniture group of companies, we can offer a single-source supply of outdoor products such as signage, seating and fencing to enhance the open air gym experience.
The guidance from This Girl Can and ukactive suggests sharing information, including additional details such as parking arrangements and opening times, removes stresses connected with attending a facility for the first time.
These simple gestures all help to empower users and increase their confidence.
An online presence advertising your facilities is also recommended. Sunshine Gym can support clients in this by providing links to instructional videos which users can view and learn from, providing extra reassurance.
3. Create a welcoming environment
Another advantage an outdoor gym has over a bricks and mortar facility is the beauty of its natural surroundings.
Exercising in the outdoors helps to boost feel good endorphins, combats boredom and delivers healthy exposure to Vitamin D from daylight.
Connecting with the outdoors also helps gym users to feel more energised – read our blog on the benefits of an outdoor workout.
The guidance advises paying attention to features such as imagery and colour schemes to provide a welcoming environment.
With a Sunshine Gym, Mother Nature provides everything a user needs for enhanced motivation and improved wellbeing.
In addition, our teams will discuss with clients how to maximise the flow of people in an outdoor gym and which pieces of kit to install to help users achieve their aims.
For example our multi gyms are brilliant for introducing a social element to exercise, with stations facing each other so users can chat and encourage each other while they work out.
4. Offer a variety of exercise options
Different ability sessions are a must for traditional indoor gyms and outdoor gyms are no exception.
All of our equipment is suitable for beginners because it is easy to operate, gentle on the joints and relies on using only body weight for resistance.
But that doesn't mean experienced fitness fans are excluded from using an outdoor gym – quite the opposite.
A session in an outdoor gym can challenge the body in different ways, breaking up routine and working different muscles.
We also provide a selection of strength building as well as cardiovascular equipment, to help people stay fit and toned.
New to Sunshine Gym is our Multi Rig range, which incorporates multiple pieces of kit in one space saving apparatus.
Aimed specifically at accomplished users, the products focus on supporting functional, multi-muscle workouts.
Again, our sales team will be happy to discuss the benefits of each piece of equipment we offer to help you build a gym which meets the needs of visitors and helps them find the right activity.
To achieve best value from your outdoor gym it's important to ensure users continue to attend. Helping them to feel safe and secure in the environment is a big step towards this.
Safety is our priority here at Sunshine Gym – take a look at our information page.
In addition, the recent Covid-19 pandemic has made everyone much more aware of the importance of fresh air in the fight against coronavirus.
Outdoor gyms are a great way for people to maintain fitness when visiting an indoor facility may not be possible.
All Sunshine Gym equipment is free to access once installed, removing potential cost barriers for users.
And because our equipment is designed in the UK, it comes with a range of features which make it suitable for use all year round. Our rubber hand grips protect fingers from frosty handles for example, and our moulded seats are designed for water un-off.
All these little extras help to address user concerns to increase confidence and demonstrate commitment to the safety of visitors.
Follow best practice for an accessible and inclusive facility
Sport England chief executive, Tim Hollingsworth, highlighted the importance of public facilities in enabling women to be active.
"It's crucial that we focus on getting more women regularly active," he said.
"Leisure environments are important for sustaining women's activity levels.
"By listening to women and working with fitness providers to develop the guidance, we're confident that it will help even more facilities to engage with women.
"The development of this guidance has been a great example of collaboration on behalf of the sport and physical activity sector and will support organisations to appeal to more women."
If you would like to talk to our teams about how an outdoor gym can benefit all members of your community, get in touch today.