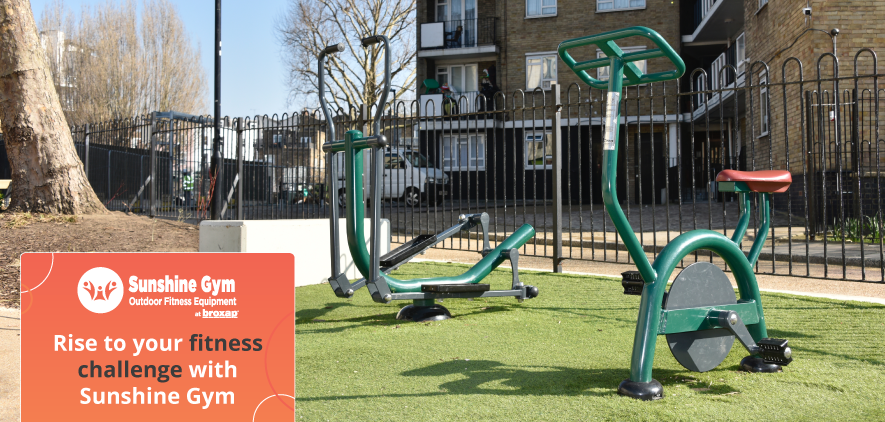 Rise to your fitness challenge with Sunshine Gym
With so many charity fitness challenges being laid down, it can be hard to decide which one to take up.
Designed to help us all to feel good and do good, the tests range from encouraging participants to get active every day for 30 days, to distance or endurance challenges.
There are many variations, some focusing on one particular exercise, movement or part of the body.
Some aim to help participants build their ability through ascending reps or timed sets.
Others set distance targets or combine wellbeing practices with physical exercise.
At Sunshine Gym we believe these challenges are a fantastic way to get even the most reluctant gym-user caught up in the fitness bug while at the same time raising awareness, or even funds, for a good cause.
And for communities which offer outdoor gym facilities to residents, members, staff, students and visitors, they are a great way of showcasing the equipment and its potential to as many people as possible.
Stronger, fitter, healthier communities
Choosing a goal and sticking with it is as much a part of the challenge as carrying out the exercises themselves.
Committing to a challenge that can be carried out in flexible locations is one way to mix it up and keep the task interesting.
The 30-day squat challenge is a very popular choice, helping to improve lower body strength.
Incorporating the Double Squat Push into the challenge gives participants the added benefit of working out in the open air.
If the squat challenge is becoming a little much, using the Double Squat Push helps to take the stress off joints while ensuring challengers stick with their regime.
The sit-up challenge follows a similar vein, laying down the task of either completing a set number of sit-ups each day or increasing the number of sit-ups each day. Our Double Sit Up Bench is ergonomically designed for comfort and technique.
Active ageing challenges are created to help older people or those new to exercise to find an enjoyable route into regular fitness sessions.
This could include a circuit challenge where new, additional exercises are added to the circuit each day, or the time at each station is upped each day, or the number of times around the circuit increased.
An outdoor gym is perfect for this type of challenge as the equipment is already laid out like a circuit without the need to transport additional kit to and from the site. Our Multi Gyms in particular are effective for circuit workouts as little time is needed to switch between stations.
Our wheelchair accessible equipment, such as the Arm and Pedal Bike, means that the whole community can take part in these set challenges. At schools or residential complexes for example, a relay-style challenge is great for team building and for engaging as many sponsors and donors as possible.
Our Double Pull Up, Rower and Bicycle are also great for incorporating into charity fitness challenges.
Getting value from an outdoor gym
Monthly fitness challenges come in all shapes and forms. Whether it's March Madness or 25 days of Christmas Fitness, they offer the opportunity to bring people together, uniting those prepared to take on the challenge with supporters and the wider community.
At Sunshine Gym, we believe in getting the very best value from an outdoor fitness facility.
We work with a wide variety of clients in a range of locations, including parks and recreation grounds, schools, workplaces and wellness gardens.
Wherever a Sunshine Gym is situated, encouraging increased use through charity fitness challenges is just one way to make sure the investment is generating a return.
And it is not just how many people are using an outdoor gym. Engaging users in challenges encourages them to use it more often – even on a daily basis.
Setting a challenge can pique the interests of different demographics, highlighting the benefits of an outdoor gym to new, wider audiences.
And because exercising outdoors brings mental health improvements as well as physical wellness, what starts out as participation in a 30-day challenge can lead to lifelong healthy habits.
Seizing on the enthusiasm for health challenges can help users to form new habits.
And with all equipment free to access once installed, and available to use all year round, there really is nothing for people to lose by giving it a go.
A challenge opens up the opportunities for the likes of selfies and social media posts as well, again tapping into a bigger pool of potential users.
And a fun, collaborative environment is good for motivation too – with a set challenge structure and goal users will be able to see results in their own fitness as well as with their fundraising.
To discuss the potential of a Sunshine Gym in your community, get in touch today.