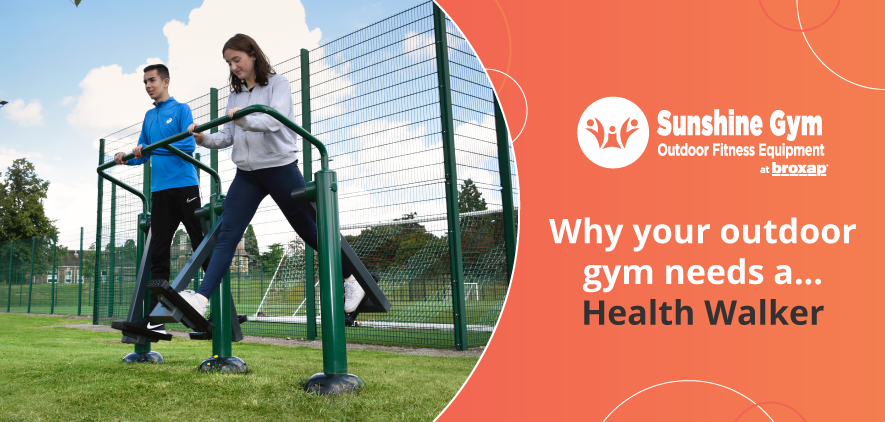 Why your outdoor gym needs a… Health Walker
A Health Walker, or outdoor treadmill, is great for getting the heart rate up.
As well as burning calories and losing weight, users incorporating the Heath Walker into their workouts also benefit from an instant mood lift.
Similar to a treadmill, the Health Walker is a useful piece of equipment for anyone starting a fitness regime or looking to inject variety into their regular workouts or sports training.
Available as a single unit or as a Double Health Walker, this kit targets the legs, hips and core.
Users operate the Health Walker individually, moving their legs in a backwards and forwards fashion as though walking or running.
However, as the feet do not leave the foot plates, impact is reduced on knees and ankles.
The intensity of the exercise is instead increased by the speed at which users operate the Health Walker while the correct posture and grip on the handlebar means the abdominal muscles get a workout too.
Why choose a Health Walker?
For anyone wondering whether outdoor running is better than a treadmill, the health walker offers the best of both worlds.
Being outside is fantastic for mental health, delivering a dose of Vitamin D and sending plenty of oxygen through the blood.
Exercising outdoors releases endorphins which boost mood and increase focus while a breath of fresh air can aid sleep and encourage more effective breathing.
The Health Walker has a comforting familiarity which means less time is spent getting used to the kit and more time is given over to purposeful exercise.
Who can use a Health Walker?
A Health Walker is really simple to operate – just move the legs, one after the other.
It is brilliant for people just starting out on their health journey, enabling them to make small but important lifestyle changes.
For those returning to exercise after a break, injury or illness, a health walker offers a safe and comfortable route to rebuilding confidence and ability.
And for seasoned runners or sports professionals, a Health Walker can be great for interval training or for recovery between sessions.
Where should a Health Walker be installed?
Unlike traditional treadmills, which are not recommended for outdoor use, a Health Walker or Double Health Walker is specifically designed for outdoor gyms.
This all adds to a rewarding experience.
With a children's size version of the Health Walker also available from Sunshine Gym, this equipment is perfect for schools, colleges and universities as well as healthcare settings and housing developments.
Recreation grounds and parks benefit enormously from Double Health Walker installations as they are so well used by all members of the community. And with the single and double unit available, our designers can work to ensure the footprint available is maximised to its full potential.
What other benefits come with the Health Walker?
Just a few minutes on a Health Walker bring about lots of positives for users. It offers a quick and easy workout to fit into busy schedules and is really convenient for people of all ages and abilities.
Using a Health Walker regularly will increase fitness and inspire users to work harder each time.
It can also help increase stamina for those who also like to run outdoors.
The low impact system can also improve balance, coordination and flexibility.
To discuss an outdoor gym featuring a Health Walker with our advisers, get in touch today.