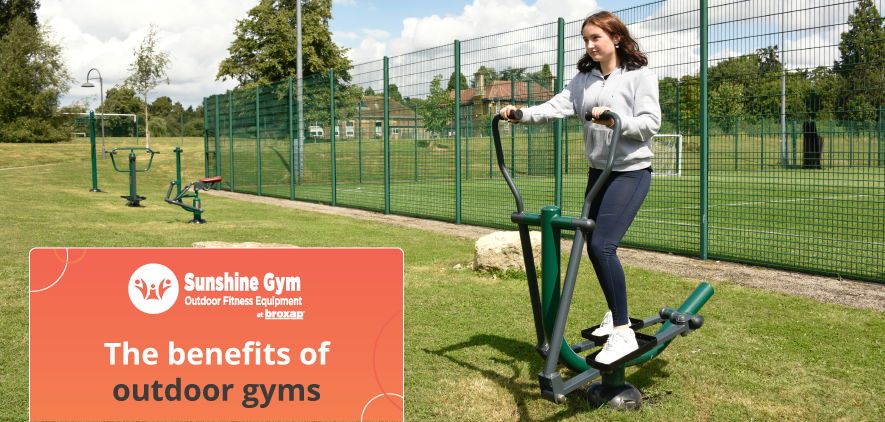 The benefits of outdoor gyms
So why would anyone choose to exercise outdoors rather than in the warmth and security of a traditional gym or sports centre?
When planning an outdoor gym, ensuring the investment is going to generate interest and be well used are factors to consider.
But a Sunshine Gym is a more than worthy contender when researching the provision of new fitness facilities.
We take a look at the key benefits of choosing to build an outdoor gym.
1. Regular exercise – at a time to suit users
Because a Sunshine Gym is designed for unsupervised use, it can be utilised at any time access is available.
This is very appealing to a wide range of groups – those fitting exercise in around shifts or other work patterns; parents with young families coordinating exercise with school pick up and drop off times; beginners looking to work out when it's quiet ; groups of friends choosing to do a weekly session together as commitments allow.
In locations such as schools for example, outdoor gyms allow for the provision of exercise opportunities even when the school buildings are closed, and opens up the facilities beyond students to the wider community.
Our in-built stop systems, clear labelling and reliance on simple body weight to power the equipment are all part of the safety measures applied to Sunshine Gym equipment, which is independently tested and assessed to the BS EN 16630:2015 standard where applicable.
Once installed, Sunshine Gym equipment is free to use, removing the cost barriers to exercise.
Our outdoor gym equipment replicates the movements and workouts available in traditional gyms to ensure there is no compromise in terms of fitness gains.
Our Health Walker is perfect for those looking for an outdoor treadmill, the Sky Stepper is similar to a cross trainer or elliptical trainer, and our bicycle and rower offer a cardiovascular workout to strengthen the heart, lungs and muscles.
3. Convenience of location
Choosing an outdoor gym for your community – whether it be a specific audience or a wider group of people - means it can be centrally located.
It could be in a park, or on recreational land along a key route; in a courtyard; part of a public plaza or in a break-out area around an office complex.
There are lots of reasons people find it difficult to exercise but a Sunshine Gym offers a solution to some of the more common issues.
We work with our clients to discuss location and layout to make it easy for users to fit exercise into their schedules.
4. Year-round availability
The design features of Sunshine Gym equipment make it suitable for use all year round.
Just like any gym, getting out and making the effort to exercise takes some degree of willpower.
But even if it has been raining beforehand or it's a frosty morning, our equipment is identifiable by certain characteristics tailored to support all users whatever the weather.
For example, our comfortable moulded seats allow for water run-off to prevent rain pooling.
We provide rubber hand grips so whether its day of warm sunshine or cold winds, visitors are sure of protected hands.
Our installation teams also offer a wide range of surfacing, from hardwearing wet pour to rubber grass mats which help to prevent a muddy build-up in areas of heavy use.
An outdoor gym shakes up an exercise routine. It challenges the body in different ways to being indoors surrounded by artificial lighting and air conditioning.
And quite often it's more enjoyable, feeling less like a chore as users connect with nature. Some studies even show that being outdoors reduces the perceived effort needed to be active so encourages individuals to work out for longer.
The full range of Sunshine Gym equipment offers fantastic variation and choice, whether it be a simple mix of children's and adults' equipment or the development of specific cardio and strength zones.
Our fitness equipment packages are tailored to specific locations and needs or our experienced sales team can put together a gym design to suit individual sites.
A healthier lifestyle doesn't just bring about physical change, it's also great for wellbeing. Take a look at our blog outlining the mental health benefits of exercise.
Green exercise is great for self-esteem and relieves stress and anxiety. It delivers a real sense of achievement and is a great distraction from negative thoughts.
For more information on how a Sunshine Gym can help your community benefit from being in the outdoors, give our teams a call today.